If you have a family, you may have had pool builders install a swimming pool so they can have fun swimming at home, without any need for a trip to the beach or a public pool. However, rather than just having a pool suitable to the children's energetic lifestyle – jumping in and out all the time – make sure you add some accessories to make it a great place to relax.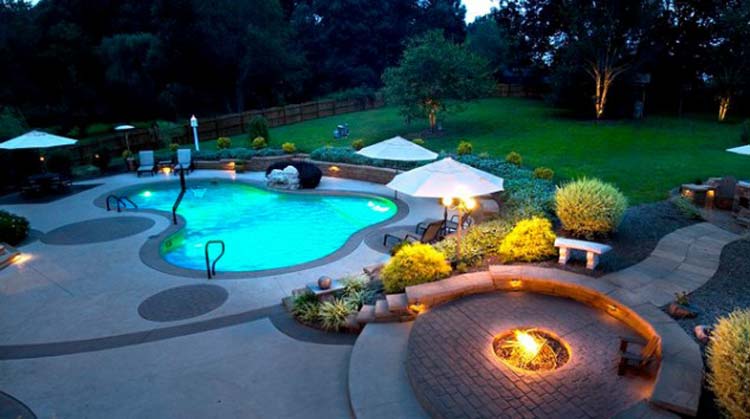 After all, you will be spending time there, overseeing the children, so it's important to be comfortable. You don't always want to sit on the edge of the pool, or even get in and swim. So here are some tips on designing your own custom pool and make your area the best place ever, not just for the kids, but for parents as well.
Add comfortable seating. Don't just drag a folding chair down there when you need it; install proper pool-side seating that has a backrest and allows you to put your feet up. It should be something that does not need to be moved back inside every day, so it should be made from outdoor fabric that is UV and water resistant.
Now you're sitting comfortably, you'll realise the need for a table. This is useful to hold your coffee or cold drink and can also be used for other things. Snacks for the children, a place to put their goggles so they don't tread on them and so on.
Add some pot plants. These not only enhance the surroundings, just looking at them makes you feel relaxed and refreshed. Make sure the pots have saucers so the water from them does not leak into the pool and ruin its pH level.
Consider privacy. Growing a row of cylindrical conifers that don't shed much in the way of leaves will give you privacy from close neighbours and may even give shade, depending on their position.
Talking of shade, a table umbrella or a shade cloth will make your pool area much nicer to be in during those hot summer days. It will also reduce the need for sunscreen, something that children don't always want to bother with.
Safety is essential, so make sure you add a pool fence that is up to your council standards. Toughened glass is both modern and non-distracting, allowing you to admire garden from inside the pool area and keep an eye on the children if you are outside it.
In the summer there are many nights warm enough to swim. Your kids may think it great fun to take a dip before bed. Make sure you have solar lighting or other lighting installed to ensure they can see properly. Evening pool parties are great fun in hot weather.